Welcome to the Crypto Insights Series - providing the latest and greatest in the world of crypto. This blog is just one of many offering invaluable insights on everything you need to know about the payment innovations needed to offer a seamless crypto investment experience and stand out in a fiercely competitive marketplace. Want access to the entire series? Sign up here.
---
Crypto assets are an emerging force in the financial services space. Though still largely in their infancy, companies, consumers and regulators must recognise the growth trajectory of digital assets and how they're becoming an important part of the payments world.
We spoke to Gavin Waddell, Modulr's resident crypto specialist, to find out exactly how payments platforms can enable crypto companies to deliver a superior investor experience.
---
A new breed of investors has emerged, looking for an easy and reliable way to dip their toes in the cryptocurrency waters. Recently, PayPal harnessed this opportunity and now enables these 'crypto-curious' customers to trade in the UK and several additional international markets. Mastercard also announced they'll soon be supporting crypto payments across their expansive network.
What are the challenges with crypto investments?
Scalability
Cryptocurrency is an emerging player, and one of the main challenges facing crypto curious investors is scalability. While an increasing number of people embrace crypto as an investment option, credit and cash transactions still dwarf its figures and prevent it from expanding its foothold. Crypto must prove its place as a sustainable option in the payment world.
Security
Being based on blockchain technology, cryptocurrency is vulnerable to cyber threats like phishing, identity theft, security breach and even human error. To keep their investments safe, crypto payment platforms must maintain airtight security infrastructure and adopt top-class protection methods, which we'll go over later in this article.
Limited access to banking
Cryptocurrency businesses are underserved by banks, as traditional banks are typically cautious in providing services to businesses in emerging industries, and crypto is no different. Banks perceive the crypto sector as high risk, often due to a lack of understanding, and although blockchain based transactions are typically much easier to monitor than cash based payments, banking options for crypto businesses have been limited. This harms the ability of crypto investment platforms to receive, send, hold and protect customer funds in the best possible way, whilst delivering a first class customer experience.
How certain payments platforms can offer a safe way to invest in cryptocurrency
Payments platforms, like Modulr's, make it easy for you to offer your crypto investors easy-to-use fiat on/off ramps and integrated accounts. These platforms are suitable for the mass market and can be leveraged to make investing in cryptocurrency available to anyone.
The four innovations crypto companies need to deliver a superior investor experience
1. Streamline bank transfers with Open Banking
Open banking and Payment Initiation Services (PIS) streamline how customers top-up their accounts with fiat currency, allowing them to purchase crypto instantly and set up recurring investments. A good Open Banking platform with integrated accounts enables your customers to make bank transfers and set up standing orders from within the crypto platform app or portal.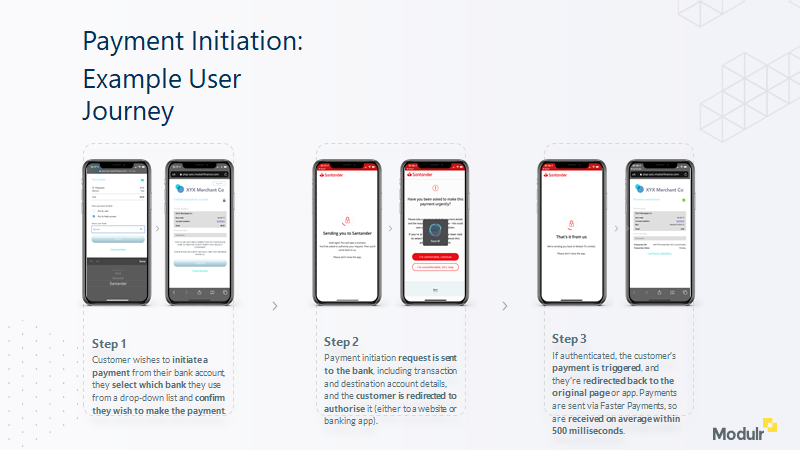 Aside from instant payments, the benefits of leveraging open banking and PIS services alongside accounts with real-time deposit notifications for accepting fiat include:
Faster settlement (instant via Faster Payments)

Reduced fraud risk

No chargebacks

Enhanced user experience

Reduced customer drop-off

Instant confirmation of settled funds

Automated reconciliation
Modulr's payment infrastructure helps companies like Mode transform the crypto market by offering customers regulated fiat accounts as well as seamless on and off-ramp access to cryptocurrencies like Bitcoin.
2. Safer payments with Confirmation of Payee
Confirmation of Payee (CoP) is a mandatory service for all major UK banks to ensure customers' payments go to the correct recipient.
Modulr was the first non-bank to introduce CoP for outbound payments last year enabling UK banks to check and verify Modulr accounts to give customers of crypto platforms confidence that they're sending their money to the correct place when depositing GBP. This service also removes any confusion your customers may have when sending funds to accounts that don't support CoP checks –which most crypto exchange platforms currently do not.
Outbound CoP checks give crypto exchanges confidence that their customers are withdrawing funds to their own bank accounts, which can be a valuable feature to reduce fraud and streamline customer experience when customers have not deposited GBP before or have changed bank accounts.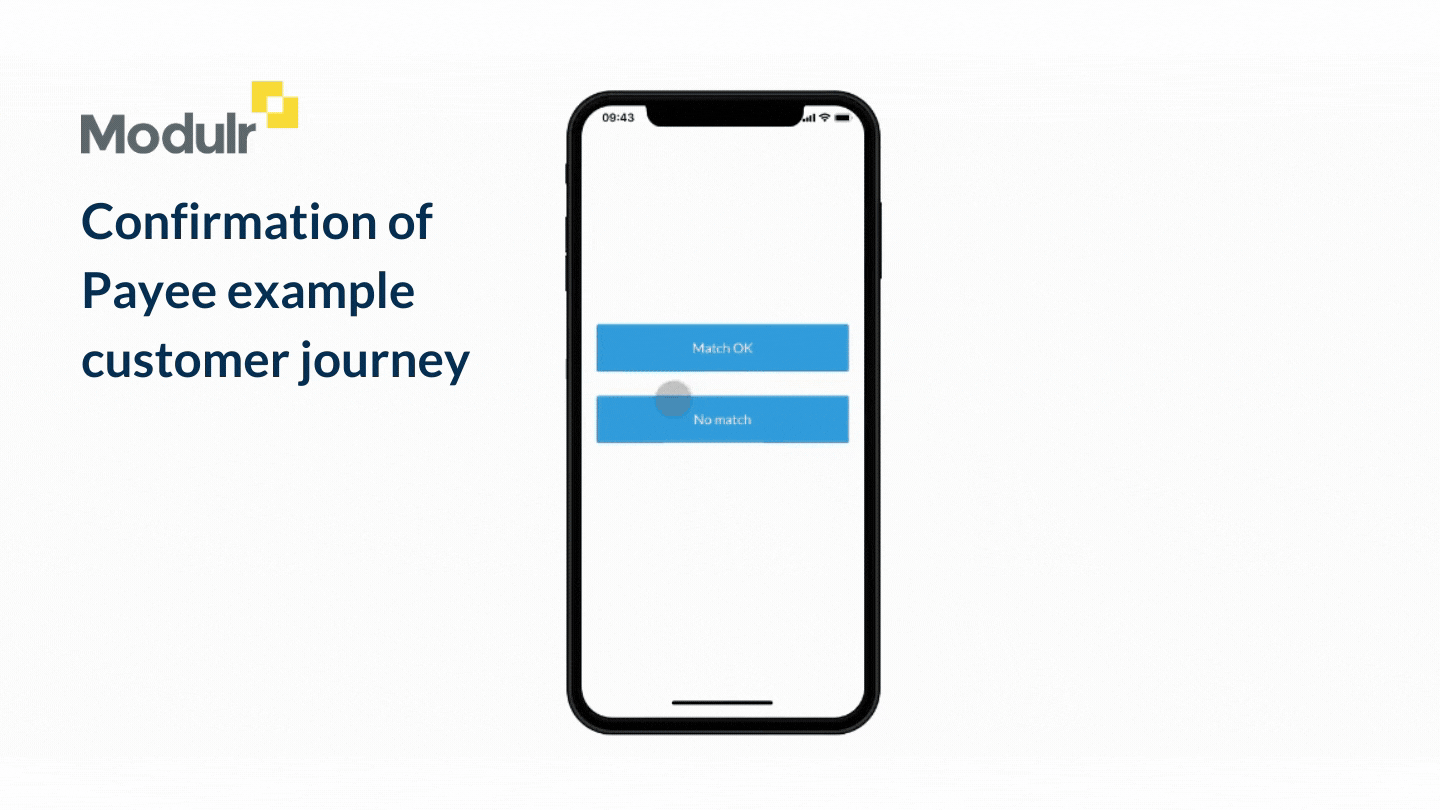 Check out the full Modulr Confirmation of Payee demo.
3. Open Banking Standing Orders for recurring account top ups
Businesses in the crypto space traditionally offer recurring account top-up facilities to their customers using Direct Debits or card-on-file transactions but these are cumbersome to set-up, can be costly to administer and the settlement timelines problematic.
The superior customer experience offered using Open Banking is well suited to integrating within modern crypto apps. It's quick and in only a few clicks a customer is able to set-up a regular top up straight into their account.
More secure than card-on-file transactions, the next gen Standing Order also affords greater end user control, with customers able to easily amend future payments within their online banking environment.
4. Accounts to hold fiat balances
Some cryptocurrency exchange platforms now allow crypto-to-fiat withdrawals, meaning customers can instantly withdraw cash from their crypto account using Faster Payments, SEPA or a Visa or Mastercard. By operating under Modulr's EMI licences, you keep your customers' funds protected in line with E-Money Regulations.
Modulr's award-winning payments platform issues accounts that allow your customers to hold fiat balances*, remove the need for deposit references, and enable auto-reconciliation with real-time notifications as funds are received.
With fiat funds held and safeguarded at the Bank of England, Modulr offers top-class protection, and accounts that connect directly into Faster Payments and SEPA for fast, easy and reliable payments across the UK and Europe.
Additionally, round-the-clock access to instant investment drives greater engagement and allows customers to keep up with the speed of the market as it changes.
Check out how Bitstocks embedded Modulr's direct access to Faster Payments and SEPA to create a seamless and real-time fiat payments and account experience.
Make Crypto investments easy
Providing a seamless fiat payments experience for digital currency investing can be challenging.
But, build your crypto offering on a payments platform like Modulr's and you can deliver a first-class crypto investment experience to your customers. Our robust, scalable payments infrastructure allows you to process high volumes of fiat transactions and rapidly deploy new products and launch new services, ensuring you are best-placed to meet the needs of the crypto-curious. Visit our Crypto page or get in touch to find out more.
*Modulr provides access to fiat payment systems and eMoney accounts. Modulr does not offer access to cryptocurrencies.
Deliver the Customer Journey 2.0 powered by Modulr
Ready to take your crypto offerings to a new level?
Modulr provides a new type of payment account designed for faster, easier and more reliable ways to move money. At the forefront of cutting-edge industry initiatives, we work hard to make the latest innovations available to our customers. We provide a seamless payments experience for customers wanting to invest in crypto through your platform. Request a payments map analysis for your crypto business today.