Learn how Modulr's new Payment Initiation Service (PIS) helps to settle funds faster, reduce fraud and deliver a better customer experience. All from one powerful platform.
Product summary: Modulr's Payment Initiation Service
What is Payment Initiation?

Payment Initiation (or sometimes PISP) is a fast, cost-effective alternative to accepting card payments and bank transfers. Modulr's Payment Initiation Service is known as DirectPay to end customers.

How do I use Payment Initiation?

Payment Initiation is available via Modulr's API. You can use the functionality to redirect end users to their bank or building society so they can make payments smoothly and efficiently.

Why can Modulr provide Payment Initiation?

Modulr is registered as a Payment Initiation Service Provider (PISP). This means we're authorised to initiate payments on behalf of a user from their bank account.

What are the benefits of Payment Initiation?
For merchants or businesses that accept payments, the benefits include:
✔️Real-time settlement and notifications
✔️Reduced risk of fraud
✔️Reduced risk of chargebacks
✔️Lower costs
✔️Better customer experience
✔️Easy to process refunds

A history of Payment Initiation
Card payments are a popular payment method in the UK and many merchants rely on them. According to UK Finance, in 2019 the volume of debit card payments increased by 12%, reaching 17 billion out of the total 40 billion payments made in the UK. 3.5 billion payments were made with credit cards.
But debit and credit card payments are not ideal for the merchants that receive them. They tend to be expensive – for each transaction, a percentage of the value may be charged. That can add up to a significant loss of revenue for companies that process large volumes of payments. And card payments are slow – it can take up to three days for funds to settle in the recipient's account.
Bank transfers are another popular method of accepting payments, but they're also imperfect. There's a risk of errors as customers manually enter bank details. There's also an increased chance of drop-off or abandonment during the payment process, as the customer leaves the merchant's ecosystem to complete the transaction. And bank transfers can seem outdated and unprofessional to today's customers, who are used to seamless digital experiences.
Fortunately, open banking is paving the way for a new generation of payment services. It's led to the creation of Payment Initiation Service Providers (PISPs) – third party organisations that can initiate payments on behalf of customers. This is going to help businesses and merchants overcome many of their payment challenges.
Payment Initiation is a new, fast and secure way to accept payments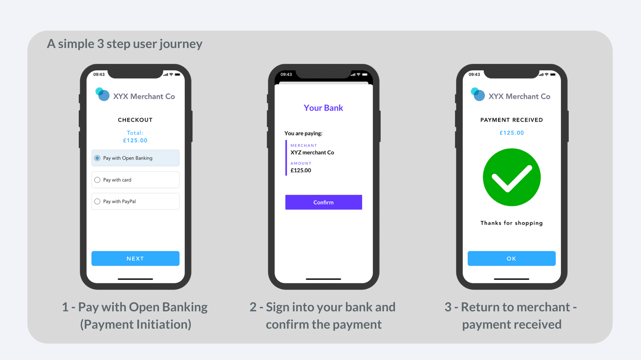 Modulr is excited to announce that we're now registered with the Financial Conduct Authority (FCA) and the UK's Open Banking organisation as a Payment Initiation Service Provider (PISP). This means we're authorised to initiate payments on behalf of a user from their bank account.
For merchants, this means Modulr can enable them to accept payments directly from their customers' banks – and the process is as easy and streamlined as accepting card payments. It also offers a range of other benefits:
Faster settlement. Unlike other PISP offerings on the market, Modulr's Payment Initiation Service provides instant confirmation that funds have been settled. By comparison, card payments take up to three days. Because cash is arriving in the merchant's account much faster, this can have a positive impact on liquidity and interest earned.
Less money lost to fraud. Globally, online payment fraud costs businesses 1.8% of revenue. Payment Initiation can help to reduce the likelihood of fraud, as it requires customers to verify each transaction through their bank (often using two-factor authentication).
Reduced risk of chargebacks. When a customer requests a card payment refund through their bank, the seller may have to refund the buyer and pay a chargeback fee. But with Payment Initiation there's no chargeback process. This means merchants are protected from buyers committing chargeback fraud.
Lower costs. Card payments are expensive – merchants can be charged a percentage of each transaction. That quickly adds up when you're processing large payments. But Modulr's Payment Initiation operates on a fixed fee basis. This can lead to significant savings for merchants that process transactions larger than £50. For example, a merchant could save £1-2 per £500 payment by using Payment Initiation instead of cards.
Enhanced customer experience. With Payment Initiation, customers don't have to manually enter their payment card details or their sort code and account number. This streamlined and intuitive experience can help to build customer loyalty and reduce cart abandonment. It's the CX of the future, and companies that offer it first could have a competitive advantage.
Easy refund processing. With Modulr's Payment Initiation, sending a refund to a customer is easy – you can use Modulr's functionality to send a payment back to the customer's account in real-time. This can improve ongoing relationships with customers, building loyalty and trust.
Instant confirmation of funds. With Modulr's Payment Initiation, funds arrive in Modulr accounts and you'll be notified in real-time via webhook when the money has landed. This makes payment reconciliation and refund processing easier.
How Payment Initiation works
Traditional card payments are a complex process behind the scenes, involving several parties –payment gateways, card schemes, acquiring banks and issuing banks – all of which incur fees for merchants. Modulr's Payment Initiation is a much more streamlined, cost-effective alternative for merchants as it cuts out some of the middlemen.
Here's how it works in practice. The customer selects 'Pay by Bank' at the merchant's checkout. The merchant calls Modulr's API to get a list of banks, and the customer selects theirs. The customer is then redirected to their bank's URL or app to authorise payment with their usual banking credentials. Once it's been verified, the customer is redirected back to Modulr and instantly onwards to the merchant's completion page. Funds are transferred immediately from the customer to the merchant's EMI account via Faster Payments.
For the customer, it only feels like three steps at checkout: they choose their bank, they're redirected and authorise the payment, then they're directed back to the merchant's completion page. They don't need to go through the hassle of manually entering payment card details, sort codes or account numbers.
Unlike other PIS offerings on the market, Modulr's Payment Initiation connects natively with our core payment accounts. This means businesses receive instant confirmation that funds have settled, they can easily process refunds and they benefit from real-time automatic settlement. This can save significant time and reduce the cost of manual reconciliation.
Read the API documentation on Payment Initiation.
Introducing Standing Order 2.0, the Open Banking powered fixed recurring payments
Standing Orders created using Open Banking work in the same way as traditional instructions but, crucially, are initiated from within a business's mobile App or website, as part of a single customer journey.
Standing Orders 2.0 set themselves apart from traditional instructions because businesses aren't reliant on the customer going to their bank account to set them up manually.
Using our Payment Initiation Service, businesses can take their customers directly to their bank, offering an unrivalled, straight-through customer experience. Recurring payments set up in this way are cheaper than other payment methods, more secure and less prone to error as payment details can be prefilled.
Find out more in our Standing Orders product guide.
Which businesses will benefit from Modulr's Payment Initiation?
Modulr's Payment Initiation Service will be an attractive option for any business that accepts payments from their customers via card or bank transfer. Here are just a few kinds of businesses that could benefit.
E-commerce.

Merchants that sell large volumes of products online could cut costs significantly by using Payment Initiation, as it's a flat fee model. And they can ship goods with confidence because funds are transferred immediately to their account, without risk of fraudulent customer chargebacks.

Property services.

Tenants often pay rent by bank transfer, but this means they might enter the wrong amount or account number. With Payment Initiation, tenants can be sent a link with the destination and amount prepopulated, so there's no chance of error.

Banking and payment services.

If a neobank lets customers top up their accounts with payment cards it can incur significant fees. And topping up via bank transfer can be a cumbersome customer experience. Modulr's Payment Initiation is a cost-effective alternative that provides a better customer experience.

Lending.

Lenders can take advantage of Payment Initiation to collect overdue repayments. Borrowers can be sent a link with prepopulated details for a fast, user friendly experience.
And the benefits aren't limited to these sectors. Modulr's Payment Initiation is customisable and can be embedded in your system in a variety of ways. You can let customers access Payment Initiation from your own payment page or a Modulr-hosted payment page. You can send customers a link to initiate payments via SMS, email invoice or even through a QR code used at point of sale. There's plenty of opportunities for payments innovation based on your business requirements.
For customers and business alike, Payment Initiation could become the new normal. Modulr's Payment Initiation is connected to major UK banks, with European banks in the works.
To hear how your business can benefit from Payment Initiation, speak to one of our specialists today. Request a payment strategy review.