IBAN discrimination, when a payment is refused because the receiving bank account is held in another European country, may be technically illegal but it's still commonplace.
The EU is working towards abolishing IBAN discrimination, but it will take time. Meanwhile, it is a source of payment disruption and transactional friction for consumers and businesses alike. Modulr is addressing this issue by allowing our customers to open country specific IBANs, starting with the countries that see the highest levels of IBAN discrimination, France and Spain, on top of our original account locations in the UK, Netherlands and Ireland.
What is IBAN discrimination?
International Bank Account Numbers (IBANS) are core to the Single Euro Payment Area (SEPA) framework. IBANs are used as account identifiers to enable cross board payments across the 36 SEPA countries that include the UK and EEA.
This sounds great, but SEPA has hit an issue with some countries' payment infrastructure not always able to accept cross-border SEPA payments, even if it is technically illegal to do so. This problem is called IBAN discrimination, and typically involves out-of-country IBANs being un-usable for certain payment types. An example might be a payroll provider where their software, perhaps written decades ago, is unable to process payments to "foreign" bank accounts. So a German employee in Spain won't be able to be paid a salary into her German SEPA bank account even though the currencies are the same.
The industry is working hard to resolve these discrimination issues which disrupt the aim of SEPA to reduce payment friction across Europe. Modulr is a member of Accept my IBAN, a coalition of over 25 organisations campaigning to raise awareness of this issue. The coalition has produced data on IBAN discrimination which shows France and Spain to be the biggest regions of IBAN discrimination, and Telco and Financial Services the biggest sector culprits.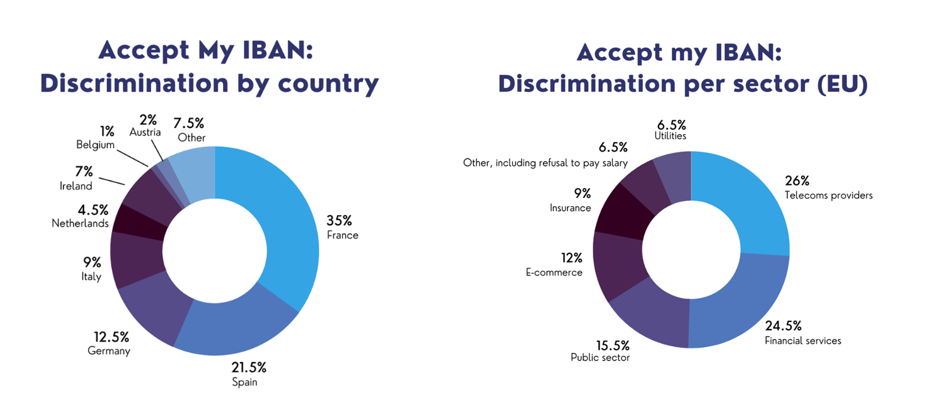 We expect it will take some years to eradicate IBAN discrimination. At Modulr, it has not prevented us from strongly growing our embedded payments platform offering in Europe. But there are certain verticals where IBAN discrimination can cause our customers problems. To this end we're enabling our customers to create Modulr IBANs with different country codes – starting with the Netherlands (where we are regulated across Europe) and Ireland, and shortly to be followed by France and Spain this year, with more countries to follow. In this way our customers won't hit IBAN discrimination as they expand across Europe.