Customer experience is something that we take seriously at Modulr. And that means looking elsewhere and finding out what other leaders are doing to deliver great experiences.
This is why we recently worked with TechPros.io to talk to thought leaders from across different areas of business about their customer experience challenges and opportunities. And here, you can find their thoughts on what they're seeing from their customers, how they're delivering great CXs, and what they think the future holds.
So, sit back and enjoy reading what leaders from E.ON Italy, DXC Technologies, Customer Touch Point, Capgemini and Atom bank had to say.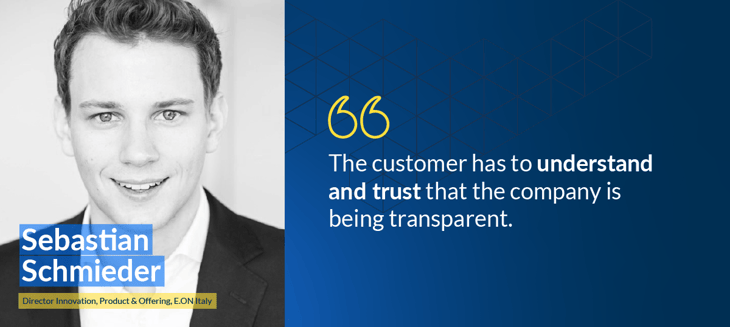 Sebastian Schmieder, Director Innovation, Product & Offering, E.ON Italy
Sebastian has been active in the energy industry and its transformation for more than 10 years and currently serves as Director Innovation, Product & Offering at E.ON Italy.
Would you agree that the most important factors for delivering a great customer experience are speed, convenience, consistency, and friendliness?
I agree but I also think simplicity is key. It's important to make things simple for the customer, making it easy for them to understand the value you create for them as well as reducing barriers to conversion.

The customer has to understand and trust that the company is being transparent, therefore is more likely to choose them as the supplier of a one-off product or recurring service. That service has to be consistent – there's no point making promises and giving a great experience in the beginning, later dropping a service and ending up with unsatisfied customers, bad NPS scores and likely higher churn, with your company seeing lower growth and reputation.

Experience is crucial, not only during subscription, but also in the service period. It has to be end-to-end to create lasting satisfaction.

How important do you feel payment experiences are to preventing customers leaving?

In the energy sector, payment used to be a key contact point with customers. Receiving a bill regularly was the main communication with your energy provider. Today, utility companies are turning their attention to alternative engagement mechanisms, from home energy management to self-service energy insights and account services. There are endless touchpoints that aren't about payment.

This widens up the conversation, but it doesn't make payment less important. It's the foundation of service, and it has to be right.

Ideally, you have systems that give customers flexibility to choose how they want to pay – e.g. as you go or subscription-based. Does the customer want to pay based on monthly consumption or do they want a flat rate, or even finance a new heat pump as a service in the energy bill? Those are great opportunities, from a billing perspective, to enable great customer experiences following customers' needs.

How would you go about building a business case for increased investment in technology to ensure the business outcome?

I would always come from a customer perspective, looking at how this technology would enable us to help customers. Will this increase satisfaction? Will there be more opportunity for interesting touchpoints with our company? Can we build new products?

Based on those answers, you can trigger the different levers for the business case, looking at: will I have a higher lifetime value? Am I able to sell different services and drive additional revenue? Can I foster loyalty or reduce cost or optimise some operations?

There are a lot of levers around adding value to the customer, such as experience and touch points. Adding new touch points means new moments where you can work on loyalty or offering additional products and services to the customer, tailored to what you know about them and their needs.

About E.ON

E.ON is the sustainable platform for Europe's green energy transition, providing innovative products and services to business and consumer customers. E.ON's leading energy infrastructure and customer solutions help to power a healthier planet.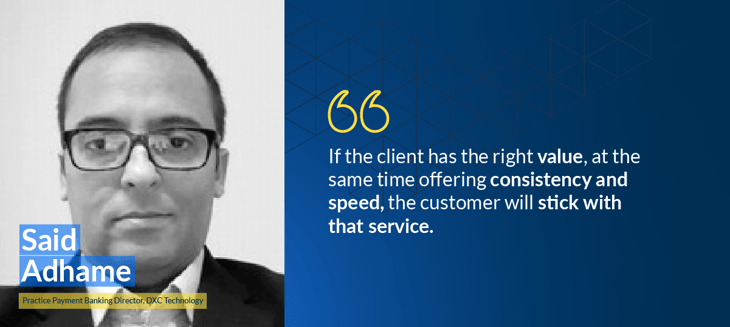 Said Adhame, Director - Practice Payment Banking, DXC Technology
Said is an expert in Payments Solutions, Innovation and Product Strategist, as well as the founder of Paynelop Consulting. He has 19 years of experience in the Financial Services covering operational, commercial and strategic aspects, working for American Express, DXC Technology and the French Acquirer Afone Payment.
What do you think are the challenges companies face in delivering a great customer experience that drives growth?
I think the challenge for a lot of companies today is how to develop genuine relationships with their employees, customers and stakeholders. Loyalty and stickiness will become very, very important in the next couple of years.
Another challenge is freedom, which is becoming a crucial driver of business growth. Professional providers must put a lot of effort into design and marketing to offer the freedom of choice to their customers and employees. These are more than challenges, they also provide key opportunities for businesses to improve satisfaction levels.
How would you go about building a business case for increasing investments in technology to ensure business outcomes?
It's an important question because we're in a context where ROI is very important for any business in the short-term. Yet, we also often see transformation projects that require a lot of investment, the vision exceeding three, four or ten years. Leadership might not be very comfortable dealing with that sort of programme or project. They prefer quick wins and business cases showing fast ROI.
The way to build a business case is to split huge programmes into a number of steps, with each step considered a separate programme that can be easily validated and executed. Maintaining an honest approach is key – explain the long-term vision with the mapped steps to achieve ROI at each stage. It's not always successful, but something positive is that a huge number of leaders are convinced that technology is a superb driver worthy of investment.
If we take the example of Société Générale, they were reluctant towards technology for a long time, but thanks to business leaders like Elon Musk, they, among many others, now believe it's absolutely essential to push hard in this area.
In the future, do you think that the businesses that are the most instant and convenient will own the customer?
To some extent, I think future advances in technology will encourage customers to move to alternative providers, selecting them based on their benefits and services. An interesting development will be platforms that group financial service providers together, with the client able to manage different services from different providers in one group, in a smooth and friendly way.
Loyalty will be an important part of this, so it's essential for services to provide and to create value for the client. If the client has the right value, at the same time offering consistency and speed, the customer will stick with that service.
About DXC Technologies
DXC Technology is a Fortune 500 global IT services leader. The company employs more than 130,000 people in 70-plus countries who use the power of technology to deliver mission critical IT services across the Enterprise Technology Stack to drive business impact.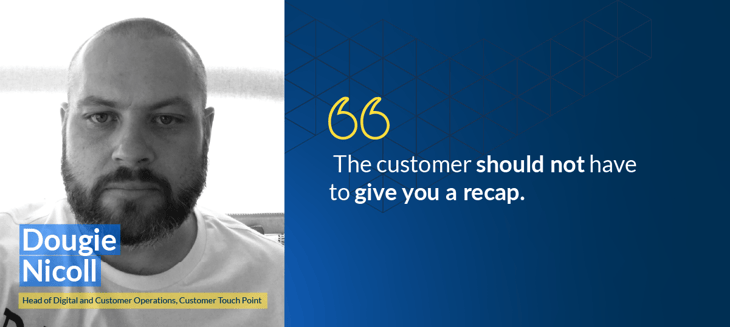 Dougie Nicoll, Head of Digital and Customer Operations, Customer Touch Point
A successful and passionate Customer Experience Consultant with over 9 years experience in the contact centre space.
What do you think are the key challenges in creating a faster journey that drives customer loyalty?
We need to first understand what the true reason is for a customer choosing to contact or not contact us.
For example, a customer might contact us to set up a direct debit, but they also need to update their address because they moved house. The reason for contact was to set up a bank debit, not the change of address. We often find companies have the wrong disposition in addressing this type of contact – we need to be using technology to understand why customers are calling, why customers contact you via a particular channel, and how you can shape that experience going forward.
To what extent are legacy systems holding customers' organisations back in terms of accelerating that journey?
Well, there are two things you can do with legacy – first you get rid of it and start again; or second, you use new technology and try to integrate this with your legacy system.
The problem with legacy is that over years and years, they've had plasters put on them, but they don't run as well or as fast or integrate as well as newer systems. Often, they're on-premise rather than being in the cloud. The last 18 months have given a lot of businesses a kick up the backside to say, actually, you can't operate without your office because your systems are in-house and they're not accessible outside that environment.
Which modern technologies are most enabling for businesses that you work with to provide an instant and convenient customer experience?
You can't get away from CCAS (customer contact as a service). It involves putting all your contact channels onto one platform and presenting it to the agent on a single engagement screen. It doesn't make a difference to the agent if the customer phones or emails or chats via social media – they deal with that contact in a non-hierarchical way, and it creates a much better experience.
Omni channel contact centres are providing this experience by tracking that customer who got in touch via Twitter yesterday – if they telephone the contact centre today, do you have full knowledge of what's already happened with that customer? The customer should not have to give you a recap. We should be able to quickly look at everything that's happened and the information you need, so that the customer feels valued and you're confident in your ability to fix the problem, which can only be a positive thing.
About Customer Touch Point
Customer Touch Point is a specialist agency that helps organisations to improve their customer experience. Specialist consultants work with businesses to give them the knowledge, tools and processes they need to deliver effortless customer experience across every touchpoint, from first interaction to last.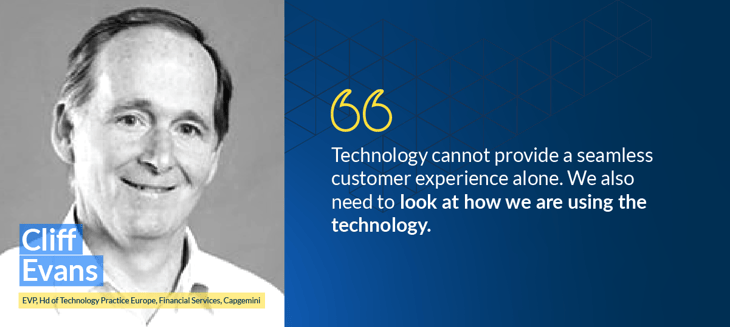 Cliff Evans, Head of Technology Practice for European Financial Services, Capgemini
Cliff works with Banking and Insurance clients on their digital and cloud transformation journeys. He is a thought leader in digital transformation and the creation of new ecosystem based, business models.
How constrained are your customers' organisations by legacy infrastructure?
One of the primary realisations of my banking clients is that they're heavily constrained by legacy infrastructure. Most banks operate on mainframes, and tier one banks in particular have a large legacy mainframe estate. As a result, there are lots of restrictions.
If we ranked companies on a scale of one to ten, where one is not constrained at all, and ten was extremely constrained, then banks are probably at something like a seven or eight. Insurance companies have seen a lot more core transformation, so they're more like a six.
Now, the focus is on helping clients transform to the core. That's a big challenge because of the need to change customer experiences quickly. As we move into a service-based economy, things are rapidly changing so we need to ask ourselves whether existing technology stacks are up to the job.
Most of our clients on that journey of transformation are investing in new technology, and the bigger impact isn't on customer experience, it's about the speed with which they can bring new services to market.
If I'm a start-up bank with everything new, then I'm able to change all layers of services and bring new products to the market much more quickly than a legacy bank, where I've been focusing on transforming the outer layers. If I want to create new products, I have to drill down to the inner layers.
Which technologies are the most enabling for businesses in your sector to provide an instant and convenient customer experience?
Technology cannot provide a seamless customer experience alone. We also need to look at how we are using the technology. It's about having a delivery model that allows you to evolve and change services at pace to meet the customer's needs. This means using a lot of technologies like cloud platforms, microservices and API-based services, which enable rapid change.
Those technologies need to be implemented with the correct agile-enabled delivery model, using automation as much as possible. There is not one magic tool, it's about using the right technology and the right architecture in the right delivery model to enable you to evolve services and customer experience at pace.
Most companies can't throw away their legacy systems, so we're doing a lot of what I call progressive decomposition, where you progressively decompose these big mainframes and deliver services flexibly. A mainframe at its core is very efficient, it's just difficult to change. Most of the change you make around banking today is not about the core account but adding new services. So there's a huge opportunity to start treating legacy platforms as utility services, building a platform on top that allows you to aggregate new services, and connect some of those third party fin-techs together with legacy systems.
How important do you feel the payment experience is to preventing customer churn in these sectors?
If you think about Uber, payment is a small, coherent part of the overall experience and I think that's the best approach. The biggest change we're seeing is payments moving into real-time, with a heavy focus on micro-payments. In that environment, payments need to be basically seamless and disappear, without the need to physically use a card.
If you can embody this, that's a real opportunity for customer retention.
About Capgemini
Capgemini is a global leader in partnering with companies to transform and manage their business by harnessing the power of technology. Capgemini is trusted by clients to address the entire breadth of their business needs, from strategy and design to operations, fuelled by the fast evolving and innovative world of cloud, data, AI, connectivity, software, digital engineering and platforms.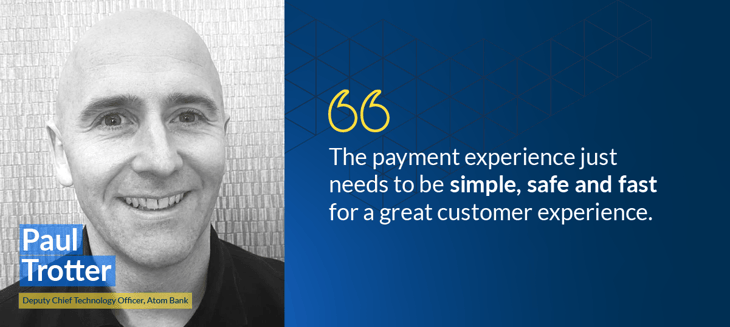 Paul Trotter, Deputy Chief Technology Officer, Atom bank
With over 20 years' experience managing transformational change in the FS industry, Paul has found a niche passion with challenger banks having previously worked with Sainsbury's and Harrods.
How constrained is your organisation by legacy infrastructure when considering future technology innovation?
Technology innovation is something that, as a young bank, we embrace. We've just completed a migration from a traditional data centre and more legacy-type products onto flexible ones. Using more traditional products was hindering our ability to move at speed and in the correct way. We are now completely in the cloud, using cloud-native products, so fortunately are not constrained at all by legacy systems. The whole bank is now optimised.
PwC reported that the most important factors for delivering a great customer experience which will drive business growth are speed, consistency and friendliness. How are you achieving these things, and what challenges do you face?
I 100% agree that speed is King. If you can get something out there, pretty much straight away, you can get feedback and then instantly iterate and fine-tune it. If it takes too long to do those things, then you're not providing the experience that the customer wants and only ever what you think they want.
Consistency is key to making the experience available and stable, so the customer is confident that the service will be there when they want to go and use it. That means it's essential that our app is available 24/7, 365 days a year. It's our only channel and therefore important to be consistent, but also to be honest – if we are genuine with customers, then they will help us and work with us, because they want the best experience.
How important do you feel payment experiences are to preventing customer churn and providing a great experience?
The payment experience just needs to be simple, safe and fast for a great customer experience. People expect everything to be real-time these days, the payment leaving your account instantly and with notification.
We previously processed payments in 15 minutes. It's amazing, because even though the regulations state that payments should be processed in two hours, we found people were expecting it to be truly real-time. People want to know exactly how much money they have at all times, and so payments are a really important part of customer satisfaction as a whole.
About Atom bank
Atom bank was founded in 2014 as the UK's first mobile app based bank. The company has grown to over 400 people, focused on using technology and automation to deliver a better banking experience to its customers.