At Modulr, we understand that, thanks to manual, disconnected payment processes, accountancy practices often spend a frustrating amount of time fixing payment errors with HMRC. However, by using accounting software which has Modulr's payment infrastructure embedded within it, these errors can be eliminated, and practices freed up to focus on their core business. And, what's more, Modulr can be used with all the major UK accounting software providers. So, you don't have to break up with the software you already love to benefit! Read on to find out more.
---
One of the main reasons businesses use accountants is that the world of tax can be daunting and difficult to navigate.
While certain payments will need sign off from directors, business owners will leave as much as they can to their accountant so they can focus on running their day-to-day operations. Challenges when paying HMRC are never even thought about. It is the expectation that these are made without any difficulty.
However, accountancy practices know all too well this is not always the case – and often not due to any fault of their own. Errors in payment processing can result in accountancy practices spending a considerable amount of time, and cost, fixing these issues with HMRC.
But by using accountancy software with embedded payments, many of these errors are alleviated.
The different challenges of HMRC payments and how you can meet them
Payroll processing
It will be no news to accountancy practices that there are many ways in which errors can occur within payroll. There are enough potential points of failure to write an entire blog on (which we have, you can find it here).
When instances like this occur, there is likely to be a certain amount of dealing with HMRC, correcting payments and tax deductions. This can often mean hours spent on hold waiting to speak to an HMRC representative, slowing all other tasks down. It's a massive hinderance to the day-to-day running of your practice, but it can be worse if errors slip under the radar, resulting in fines your practice will have to cover.
Ultimately, these issues are caused by the disconnect between accounting software and payments. Once that gap is bridged, the majority of payment flows can be automated, and the potential of human error eliminated. The image below shows how simple HMRC payments become with Modulr.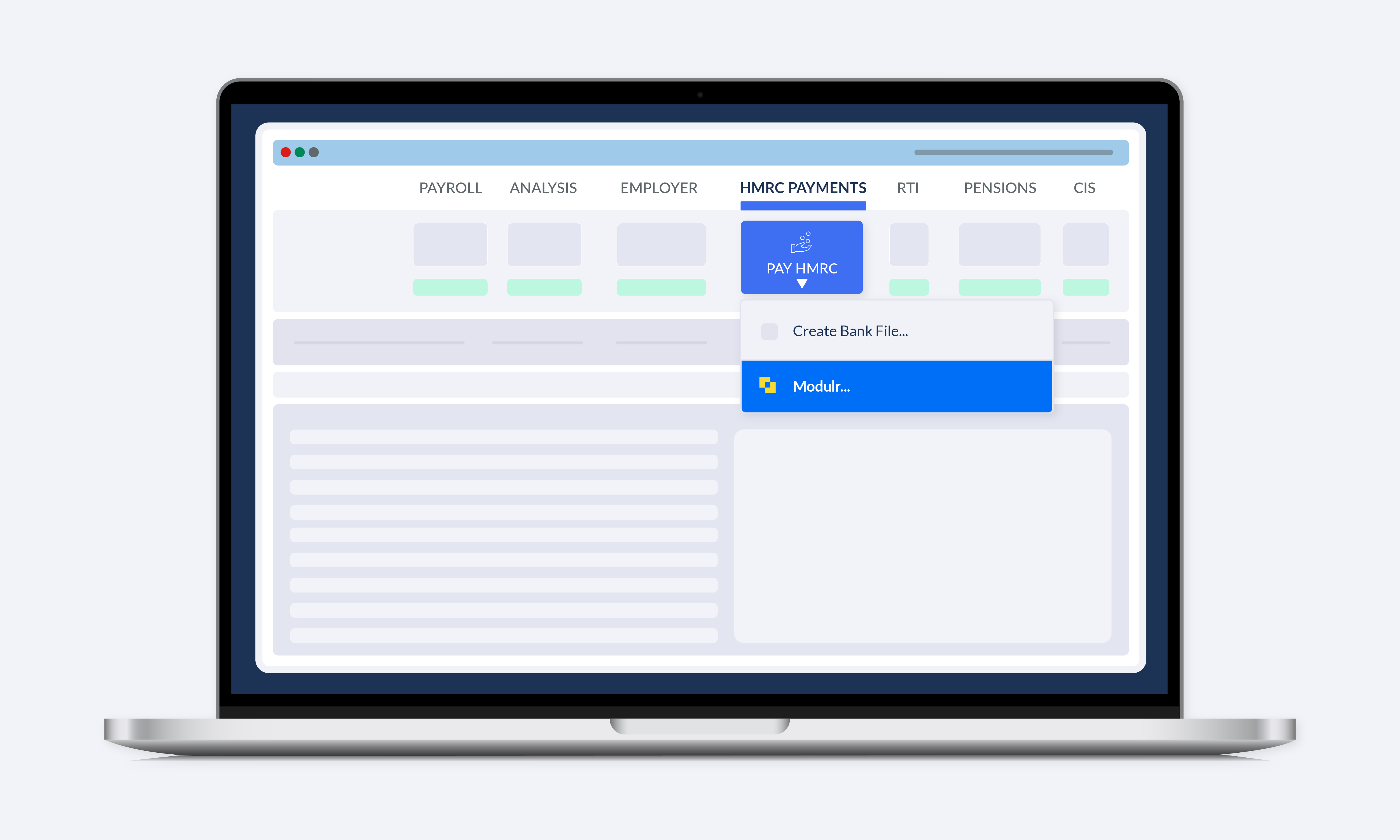 Using an accountancy software embedded with Modulr payments functionality also allows accountancy practices to use innovations such as Confirmation of Payee, which checks that recipient bank details match the data provided by their bank, reducing the chance of errors even further.
Payment speed
When accountancy practices need to make payment adjustments to HMRC, time can be a key factor. However, the speed of those payments is often totally reliant on their bank.
Payments may take days to be processed, and emergency payments may well come with an additional cost attached (if they're even possible).
However, using an accountancy platform that's integrated with Modulr's embedded payments platform allows your practice to leverage our direct access to the UK's Faster Payments Scheme. This means that you can make last minute or emergency payments in real-time, 24/7/365. No cut off times or additional fees.
Payments can even be scheduled ahead of time to ensure you're never at risk of being fined, which is good for your bank balance as well as your relationship with HMRC.
CIS payments
Businesses in the construction industry will likely have to make CIS contributions. For the accountancy practices that support them, this has been another aspect of their job which requires separate payments to HMRC.
As with payroll payments, having to make these payments manually opens up the opportunity for human error. Again, this can lead to issues with HMRC, fines, reputational damage and a lot of time spent by your team fighting fires instead of getting on with your work.
But thanks to Modulr's latest functionality CIS payments have never been easier. When using an accounting software that's integrated with Modulr's payment platform, all you need to do is select 'pay with Modulr' and these payments are sent to HMRC instantly.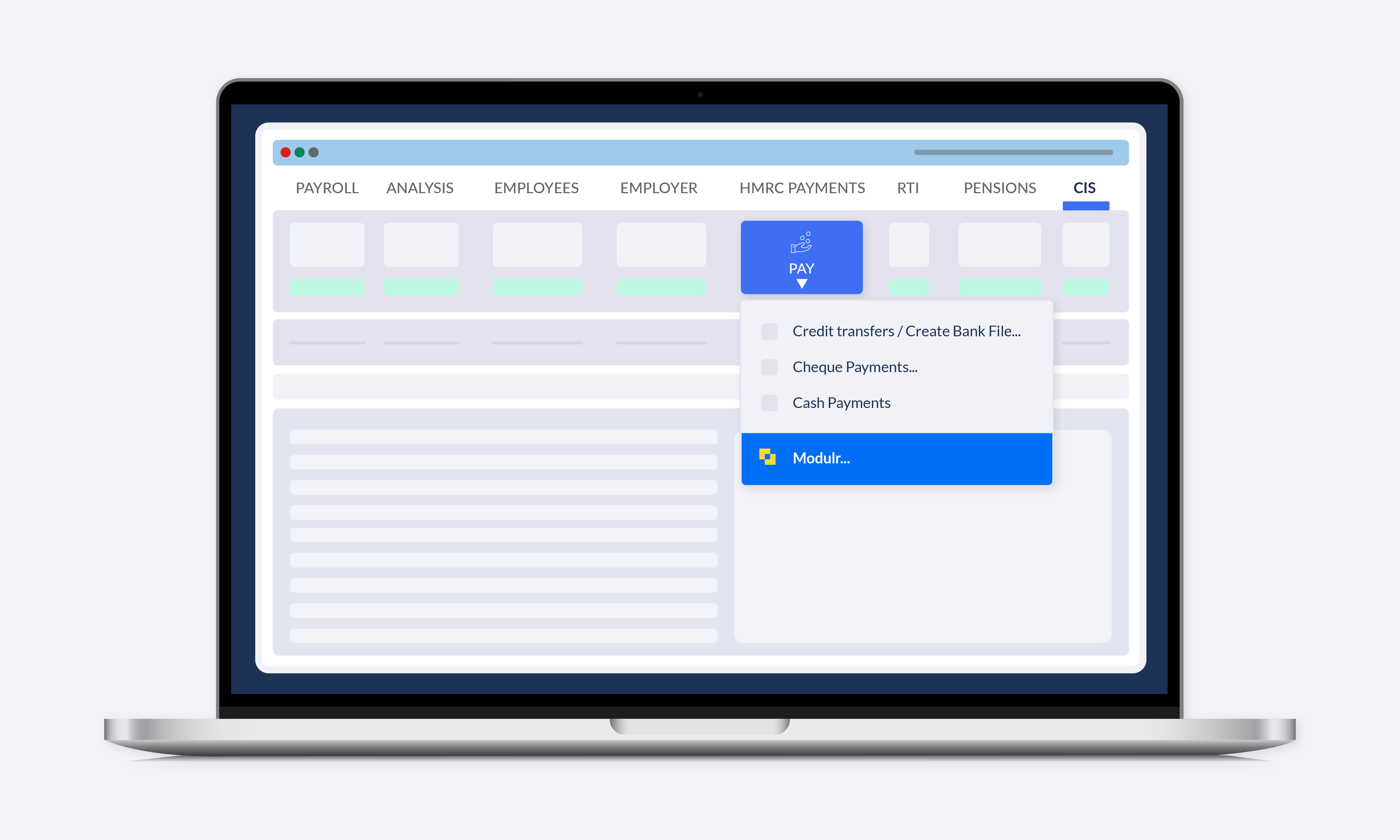 Bring an end to HMRC payment frustration
HMRC payment bottlenecks cost money and time.
No more.
With Modulr's automated invoice and payroll payments platform integrated into your accounting software of choice, we can put pay to payroll, HMRC and CIS payment errors!
In the words of Phil Ellerby, Founder and CEO of Northern Accountants: "The Modulr integration makes it so much easier and enables us to manage the process much better. It guarantees accuracy and gives us the peace of mind that that everyone's getting paid the right amount, at the right time, including HMRC! PAYE overpayment or underpayment becomes a thing of the past, together with time-consuming reconciliation".
So, book in a chat with our team or reach out to your current accounting software provider to learn more.