Businesses are prioritising cost savings and staying informed ahead of pivoting to new markets or doubling down on existing markets amid turbulent economic conditions caused by COVID-19, a Modulr virtual event featuring experts from Visa and the Emerging Payments Association revealed. Watch the full virtual event here.
Last week's virtual event 'UK Payments Unlocked' was hosted by Tom Mullally, Senior Product Manager at Modulr, who was joined by a panel of industry experts:
Mark Nelsen, Senior Vice President, Open Banking, Visa
Tony Craddock, Director General, Emerging Payments Association
Kuba Zmuda, Chief Product Officer, Modulr
Not surprisingly, the COVID-19 crisis was a key topic on the agenda as businesses navigate this challenging new environment.
Business leaders are focused on cutting costs
We asked audience participants from industries including payments, employment services, lending, and travel what the top business priorities are right now. The biggest focus was cutting costs (44%), followed by staying informed (30%).
The desire to cut costs reflects the current business climate – it's a timely insight into the thinking of business leaders as they navigate the COVID-19 situation. They're also trying to stay informed about developments and learn from their peers as they adapt and evolve together.
And the panellists didn't underplay this, acknowledging COVID-19 as the biggest elephant in the virtual room.
"It's more like a herd of elephants in the room," said Tony Craddock. "The situation is already affecting us all. McKinsey recently predicted that COVID-19 will have less of an impact on our industry than the 2008 crisis, but we can still expect to see an 8-10% decrease in global revenues."
"It's going to impact how consumers and businesses pay for things. And it will be really interesting to see how many of the immediate changes impact the industry long-term."
Watch the full virtual event here.
Mark Nelsen explained how Visa has adapted its approach. "We've put any major software releases on hold to make sure everything is locked down and solid. Our priority is maintaining the ecosystem."
"We've also increased the limit for UK contactless transactions to £45. This limit doesn't apply on mobile devices, so it will be interesting to see if more consumers shift towards mobile payments. Sometimes it takes a big event like this, something momentous, to change consumer behaviour."
Kuba Zmuda agreed with the need for business adaptation. "These are unprecedented circumstances. We all need to adapt significantly, both in terms of how we operate and the new macro-economic situation."
Full audience poll result: What are businesses prioritising in current conditions?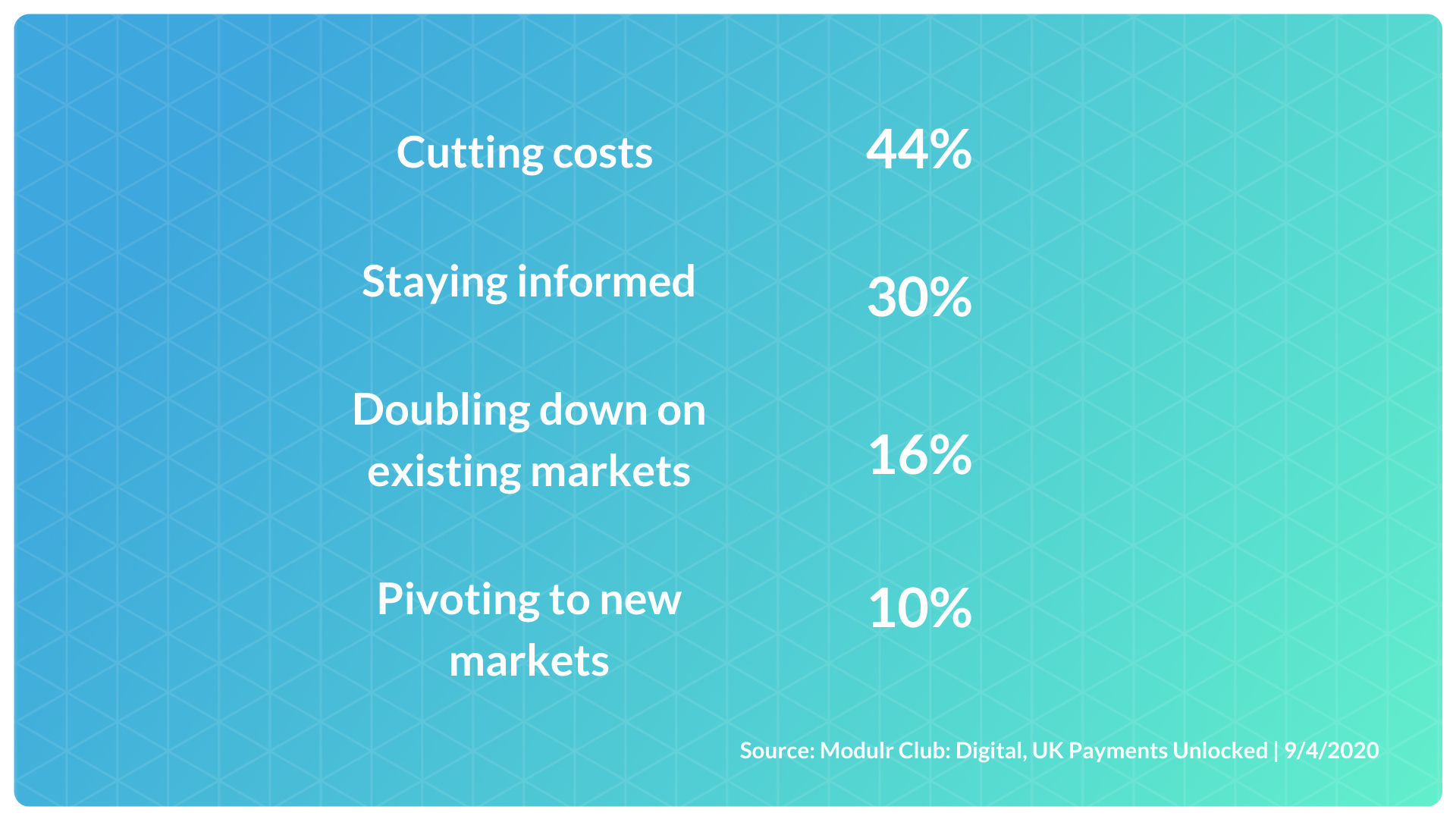 *These poll results include late voting so differ slightly from the live polling
Highlights from the live audience Q&A
The experts also took live audience questions during the second half of the virtual event. Here are some of the highlights.
Q: Confirmation of Payee (CoP) seems to have been delayed. Are third party solutions that just verify senders or receivers a better alternative?
Kuba Zmuda: In the current climate, it will be interesting to see what happens with all the liquidity that gets pushed into the economy through different channels, e.g. by government programmes, lenders and charities. The traditional relationship between payers and billers will also be changing. This opens up a whole new ecosystem of potential fraud.
I think CoP could play a very important role as fraudsters start adapting and taking advantage of this new reality. Verifying that the actual bank account matches the application you're sending funds to will be crucial.
Q: With a huge rise in non-cash payments, do you think instant payment solutions like Payment Initiation and Request to Pay (RTP) are the next big fintech trend? And will companies or consumer demands drive RTP adoption?
Tony Craddock: If I knew what the next big fintech trend was, I'd be investing myself! But I think the driving force will be both demand (pull) and supply (push).
Mark Nelsen: There's so much FinTech investment happening as a result of these new protocols. I think it's very likely there will be new companies appearing around things like RtP. Which is exciting.
Q: How do advances in smartphone tech impact these initiatives?
Mark Nelsen: The easiest one for smartphones is virtual cards. You can use your phone almost anywhere to pay now – more and more merchants accept contactless. So it's creating that mechanism for a seamless user experience with more control and analytics at your fingertips.
Tony Craddock: And consumers learn what works. When your wallet is in your phone, why carry cards? Many consumers leave cash at home by mistake and then eventually cease to use cash. Soon we'll be leaving cards at home and then realise we don't need them. The COVID-19 crisis will probably accelerate this.
Kuba Zmuda: What's really important about the smartphone is its ubiquity and usage by consumers. It's crucial that payment initiation and RtP work within that ecosystem. Otherwise adoption will be slow.
Watch the full virtual event to discover the payments opportunities experts are expecting, including:
Which upcoming solution is being hailed as one of the most exciting developments in payments.
Why the real potential of open banking is about to be tested.
What impact virtual cards are set to have in the current climate.
You can also register for upcoming virtual events here.
Our special thanks to Visa's Mark Nelsen and the Emerging Payment Association's Tony Craddock. To find out how EPA's members are dealing with COVID-19, read their whitepaper.