Here at Modulr, we recognise the financial and economic uncertainty that many businesses are facing. To support businesses through this difficult time, we're focused on two key objectives: ensuring payments reliability and keeping business leaders informed.
---
In our mission to deliver informative content and insights, we've strengthened our community outreach to business leaders and taken our entire events programme online. We spoke to the Modulr team who are playing an integral role in supporting businesses and bringing our content to life.
Bringing the best of in-person events to our digital series
With the cancellation of this year's events and trade shows, businesses are turning to online events for insights and networking opportunities.
We spoke to Meghan Shaw, Head of Events and the driving force behind Modulr Club: Digital, about what challenges she faced and how the series has been received so far.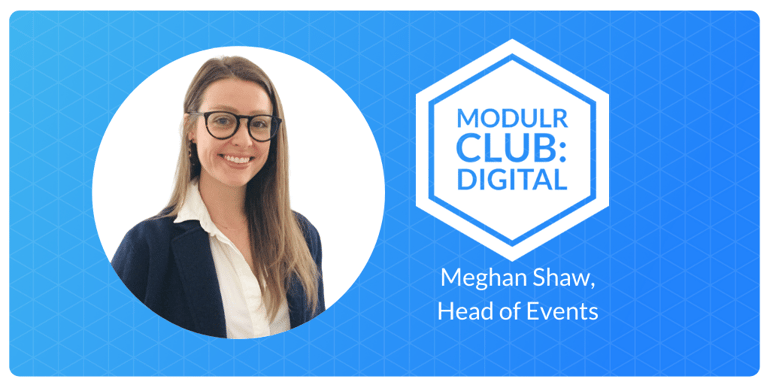 How has COVID-19 changed your events strategy?
Meghan:
Before the COVID-19 crisis, we were focused on in-person events – everything from 2020 trade shows, the roadshows targeted at specific industries and other more intimate events like the VIP Modulr dinners we usually host. Obviously, we can no longer hold any of these events in-person.
That's a big shame for the business leaders who look forward to these events as a way of getting the latest insights and meeting their peers and industry experts. I had to quickly pivot our approach and find new ways of bringing these benefits to our audience.
Of course, a lot of companies have gone online with their communications – we didn't want to produce just another series of webinars. So that was a challenge. We wanted to be creative and launch something that stands out. That's how Modulr Club: Digital was born.
Fortunately, we had a bunch of great content already in our pipeline – including in-depth ebooks on UK and EU payments and specific industries. We were able to leverage those in our new approach.
What is Modulr Club: Digital and what makes it unique?
Meghan:
We wanted to take all those benefits of in-person events – the networking, access to experts, community feeling – and replicate them online. Our focus is on unique content and provoking interesting discussion, so much so that we've had attendee feedback that we don't talk about our own solutions enough!
We've launched two types of events.
The first type is the Virtual Fireside Chats + Q&As. These are a replacement for the big industry events with hundreds of attendees. We've brought together high-profile experts from Visa, Santander, fscom and more. While the first half operates like a webinar, we also have interactive features including live polls – giving attendees an insight into what their peers are thinking about. And in the Q&A segment, the experts answer live questions submitted by the audience.
The second kind of event is our Virtual Coffee Roundtable. These are a replacement for our much more intimate events and VIP dinners. They're for specific industries: lending, property, acquiring and employment services. We're capping attendance at around 15 members for each so we can have a high-quality discussion between big players in the industry. Modulr will host these but it's much more of a free-flowing, live conversation between attendees.
What's happening in place of the Accountancy Innovation Roadshow?
Meghan:
That's a big one! The Accountancy Roadshow is something that's always highly anticipated, so we've devoted a series of Modulr Club: Digital events to accountants. We're expecting a lot of attendees for these so we're running them in the webinar + live Q&A format.
I'm really excited for the speakers we have lined up for the Digital Accountancy Roadshow, including Sage, iwoca, KPMG and Acumen Accountants and Advisors. They'll be discussing everything from insourcing vs outsourcing to cashflow advising and reassessing the accountancy business model during COVID-19 and beyond.
What has the response been to Modulr Club: Digital so far?
Meghan:
I was really blown away by the number of sign-ups for the first event. We had hundreds join in just the first few days - I'm so glad people see the value. I think the quality of speakers is a big draw card – it's testament to the way we and our partners work. We both want to offer that little bit of extra value in whatever way we can.
We held the first Virtual Fireside Chat - UK Payments Unlocked. We had a bit of a technical issue at the start with letting people in, because we had more attendees than we expected! But we were able to resolve that quickly and we're now prepared going forward.
The feedback has been amazing. People were really happy with the quality of speakers and the ideas discussed. We already have a lot of attendees signalling their interest in the rest of the events.
What skills or learnings will you take into the future?
Meghan:
From the outside, a digital event can seem easier than hosting something in-person. But there's actually so much contingency planning that goes into it. All of a sudden, we're acting as a media production company. I need to coordinate speakers, commission content and research, and align our approach with teams and department leaders internally. And that's all before setting up the technical aspect of events!
When the day comes there are so many small but crucial things to consider – using the right type of headset for sound quality, making sure the hosts and speakers all have spare chargers and extra connectivity, implementing back up plans for if systems fail. Even making sure they're wearing the right type of shirts for on screen. So those are practical skills I've learned in a short space of time.
It also makes you think about the future differently. No one knows how long this situation will last. And with digital events getting such a great response, maybe they'll be a much bigger part of our marketing – and that of companies everywhere – going forward.
Strengthening our community outreach
We talked to Lucy, Georgia and Kristha at Modulr about what they're doing to support business leaders right now, what challenges they're facing and what learnings they'll take away from this situation.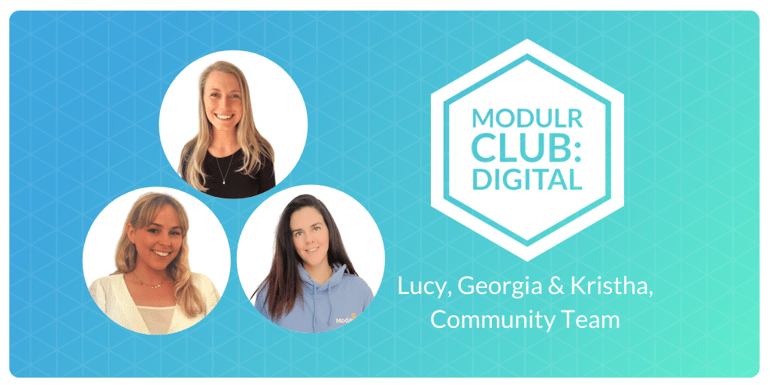 How has COVID-19 changed your approach to community outreach?
Georgia:
The situation has obviously hit some sectors much harder than others. For some companies it's business as usual, albeit working from home, but others are facing big challenges in the months ahead. Some are fighting for survival. I've been researching the impact of COVID-19 on each industry, largely through conversations with business leaders. We're making a big effort to understand how Modulr can better serve our markets during this difficult time.
Kristha:
It's really important to build rapport and empathy with the businesses we work with. We're all in this situation together. At the same time, leaders are quite open to ideas and new technology solutions right now. They don't know how the long the current situation will last, so they're trying hard to adapt and build agility and resilience into their future plans. I'm getting a lot of calls from people who have researched Modulr's solution. They want payments resilience going forward.
Lucy:
The business leaders I've talked to are really keen for valuable content. They want to be informed about what's happening in their industry, so they can learn from how other companies are adapting and pushing forward. That's why we launched Modulr Club: Digital, which is a series of events bringing insight and expertise to people's screens. The response has been great so far.
This is a really challenging time for so many people. We've all had to adapt to get through. Are there any positive learnings you've taken away from this situation?
Georgia:
In a way, working from home has made our business conversations more human! People have their kids running around in the background, or their partners talking to them while they're on conference calls. Those are things that almost everyone is dealing with, no matter what role they're in or how senior they are in the business. It's given us all a point of common ground – something to laugh about but also connect over.
Lucy:
That's true! And some people are actually easier to talk to right now. You know what it can be like in an office environment, everything's non-stop. But some business leaders have more time in their day now that they're working from home. They're more accessible and open to engaging and chatting about their problems. And they find it really valuable when we actively listen and offer solutions.
Kristha:
Active listening was always important, but it's even more so now. And I think everyone is feeling more empathy. This situation has affected everyone and I think it's made people feel connected in a more human way, even though we're communicating through our screens.
---
Every team member at Modulr is passionate about customer success. That's why we're bringing expert insights straight to your screens with our Modulr Club: Digital events. We're ready to discuss the challenges your business is facing and help you unlock new opportunities, as we all navigate change together.
Learn more about Modulr Club: Digital or register your interest in attending here.